The Premier Award
This award is announced at the Annual Awards Ceremony by Prince Michael. It is given to the most outstanding winner of any category.
2018 Premier Award - The Institute of Road Traffic Education (IRTE).
The 2018 Premier Award was presented to the IRTE for its College of Traffic Management and its evidence-based, knowledge-sharing programmes.
It is a research-based, not for profit organisation formed in December 1991 by Dr.Rohit Baluja in Delhi.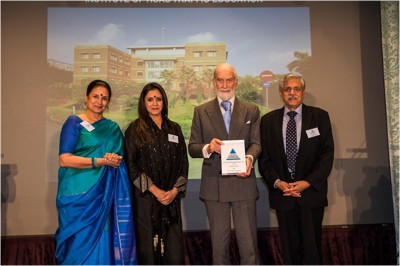 Sarita, Arushi and Rohit Baluja from IRTE receiving the Premier Award from The Prince.