How to nominate
Nominations are open to any team, organisation, government department, private sector organisation or business.
This means that we will not share your email details with anyone else but we will have them on our data, and if you are a winner, your photograph may be on our website.
Nominations are judged once a year and should be submitted by 31st July.
You can self-nominate.
Nominations must be clear, concise and presented against all the judging criteria as shown on the nomination form below.
Before you submit your nomination, please read all the information concerning the whole process including the e-notes explaining what happens if you are successful or not.
Submitting your nomination
All nominations must be presented using our criteria, shown here.
Each nomination should be a maximum of 1,500 words (including testimonials) and should clearly illustrate why the entry is worthy of an award based on the award criteria.
Nominations must be clear and concise. Above all they must be evidence based as explained here.
A clear summary paragraph of up to 80 words must be included at the beginning of your nomination.
Your nomination must include its budget and funding sources.
Your nomination should include the aim and objectives of the innovation or scheme.
All nominations are judged by our panel of road safety experts who understand the underlying causes of casualties. Please therefore do not waste words in your submission explaining the problem, but concentrate on your solution.
Submissions should NOT contain logos or pictures. Explanatory diagrams or graphs may be sent separately.
There may be occasions when judges call for additional evidence or material in which case we will ask, and this must be submitted within the time frame requested.
Nominations are evaluated and judged using the criteria shown here.
With your submission please also include 3 x PowerPoint slides. The slides should have pictures only with NO WORDS, but logos are permitted. Some examples can be found here.
If you have been unsuccessful in the past you may apply again with up to date evidence of substantial improvement
All awards are presented at our Awards Luncheon Ceremony held at The Savoy, London, each year on the second Tuesday of December.
Nomination form
Download the nomination form (Word file)
Nominations should be sent using the above Microsoft Word form as an attachment to an email with full contact details to jwalsh@roadsafe.com
Here is a successful example of a successful completed nomination form.
All nominations received will be acknowledged. If you do not hear from us we have not received your nomination.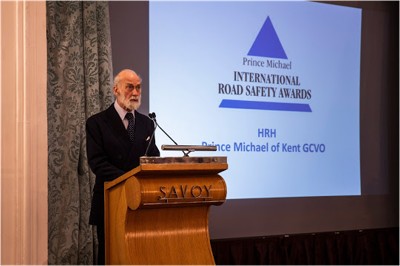 Prince Michael addresses the 2019 Award Ceremony.