Booking a table at the annual Awards Ceremony
Everyone is welcome. Booking a table or seat is easy, please contact jwalsh@roadsafe.com, or send a completed booking form.
The Savoy
The Savoy is one of London's most prestigious hotels. We use the Lancaster Suite, at the River entrance of the hotel which holds our party of 300. We have our own designated cloakrooms where coats, cases and packages can be left. The only items allowed into the Ballroom will be handbags measuring less than 30x30cms. Security is tight and tickets will need to be shown, and passports sometimes required for identification purposes.
The Lancaster Suite is a group of rooms where you will meet The Prince in the River Room overlooking the River Thames, followed by lunch in the Ballroom and extra coffee available afterwards in the Parlour Room. Details of how to find The Savoy can be found here. Please note that all attendees should use the River Entrance.
Tickets
We are a registered charity. We do not charge for our nomination process as most award schemes do. We only invite our winners to our award ceremony as many of our nominees and indeed winners are NGO's.
For us to be able to function and run the Awards Programme and Awards Ceremony we therefore need sponsors to run the programme and event.
If you are able to become a sponsor please do let us know: awalsh@roadsafe.com or jwalsh@roadsafe.com
Our 2019 ticket prices for our Award Ceremony Luncheon are:
£215 plus VAT for non-profit organisations and £225 plus VAT for corporate organisations.
Our ticket price includes drinks beforehand, a four course lunch with wines and coffee in The Savoy Lancaster Ballroom. As soon as you know the number of extra seats you need, please let us know who to send your invoice to. We do not accept credit or debit cards. The invoice needs to be paid before December 1st, and when payment has been made, the tickets are sent out. These are sent out by post or email, and will have your names written on as this is a form of security.
We are a very small charity and therefore need to ask for prepayment for the event. If this is exceptionally difficult for your organisation, we have in extreme cases, taken cash on the day. We will need your table names as soon as possible, and any name changes or reimbursements can be made before December 1st.
Tables are of 10 people and everyone has a designated seat with their place name on the table in front of your seat.
Will there be networking opportunities?
Some 300 people attend the ceremony, only some will be award winners. Official guests include the British Road Safety Minister and many leading road safety professionals from across the world. Most people find the event an extremely good opportunity to network and find out how road safety is being tackled worldwide. Our award winners are from a wide range of countries and we provide coffee after lunch for anyone wanting to have a quiet meeting or carry on chatting.
Timings
We ask the two people who are to be presented with your award to arrive no earlier than 10.30am for coffee. They will be met by one of our judges and rehearsed. If you arrive earlier, we will ask you to come back until we are ready for you. There are various cafes around the area should you need. Others in your group are asked to arrive at 11.45am. The Award Luncheon Ceremony is over at 3pm and some people stay for extra coffee until 4pm.
On receipt of your form an invoice will be sent to you. When we receive payment, your tickets will be sent to you. Again, all invoices must be paid for prior to the event by cheque or BACS as we do not have a credit or debit card system.
We ask all award winning teams to send us:
• their table forms early with the table plan. We give award winners two free seats and all other seats must be paid for. The names of the two team representatives who are to meet The Prince should have an asterisk by their name. We ask these two people to arrive with us at The Savoy by 10.30am for a briefing.
• 2 or 3 PowerPoint slides which can be shown at the presentation prior to lunch. This takes place in the Lancaster Ballroom, which is a very large room and our audience will be over 300 people. Slides therefore need to be illustrative pictures with logos but as few words as possible otherwise they cannot be seen by anyone near the back of the room. Slides need to be sent to jwalsh@roadsafe.com. Example slides can be found here.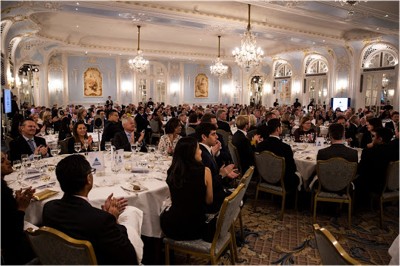 Luncheon at The Savoy